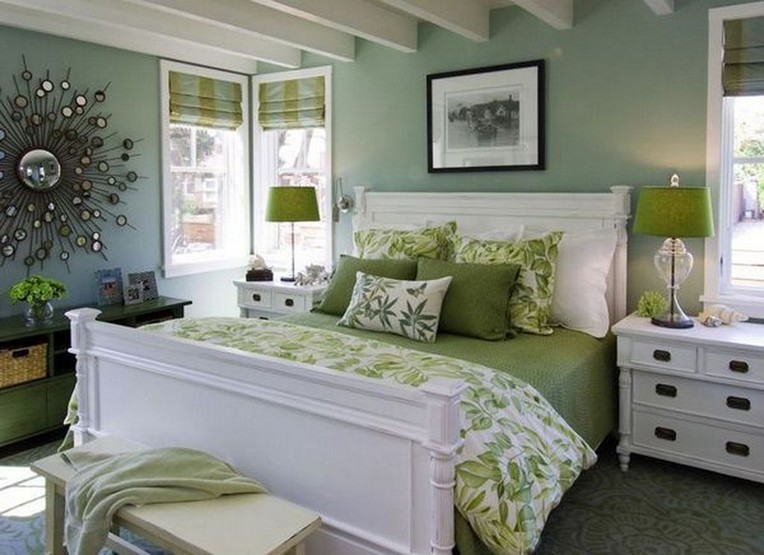 Is green the right color for bedrooms? All you need to do is to check these green bedroom design ideas and decide your own. Green comes in various shades. As long as you know how to pick the most sensible shade, you may create a luxurious retreat in your home. Also, experts agree that green is one of the best colors for bedrooms.
It is always a good thing to bring inside the outdoors. For a bedroom, this can be done by installing a green woodland print wallpaper. Using wallpaper for the whole bedroom will give you the impression of settling in a full forest. Incorporating green velvet curtains and cushions gives extra warmth to the room.
Another way to implement green bedroom design ideas s by using floral and green leaf prints. Botanical patterns surprisingly make the room feels joyful and fresh. It feels like spotting green buds when spring is coming. To boost the romantic vibe, try matching the greens with buff tones, soft blush, and cyan blue. Infusing vivid green to the headboard will pull the room together.
What about going tropical? It is not surprising if the bold botanical theme fits perfectly in a green bedroom. Meanwhile, you can calm the room by putting a backdrop in mid-weight green. You will feel how cocooning your bedroom is. Natural woods and warm pinks could help to balance the bright colors.
Forest green is such a good choice for master bedrooms. Deep green is even an excellent choice for both big and small rooms even though you will paint the entire walls of the same color. If you will go this way, we recommend you to go pale or clean white with the floor. This color choice allows you to get a fine mood as the day goes by. To lift the room, blush accents do it well in green bedroom design ideas.
Image Source : pinterest.com