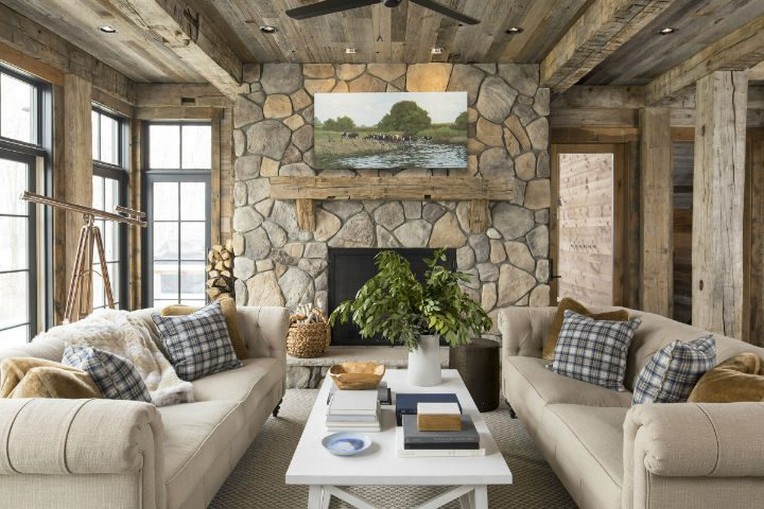 We have several barn wood decor ideas for a cozier cabin or house. Adding reclaimed wood to a modern living room will add warmth, uniqueness, and character. Meanwhile, adding reclaimed barn wood to a more traditional house would bring up a sense of nostalgia and history.
The easiest way to bring barn wood to a room is by assigning it for an accent wall. It doesn't matter what color palette you go with because barn wood wouldn't interfere with it. This even adds a dashing focal point in a room. This also adds natural texture especially if the room is dominated by man-made elements such as glass, polished stone, and so on.
The next thing on the barn wood decor ideas, you may use this element to create shelves.
Decorating a room with decorative elements doesn't always mean that you cannot use them. So, building shelves with reclaimed barn wood will allow you to have more storage solutions in your living room while it also acts as a focal point in the room. Pairing it with a bench made of similar material will boost the warmth in the room Feel free to welcome other materials like metal to create shelves.
On the other hand, if you are not too into storage solutions, you can use reclaimed wood plank and mount it on the wall. It will make a nice settle for coat hooks on the wall. If you have time to bring a weekend DIY project on your schedule, making a desk out of reclaimed barn wood would be a good idea as well. Starting from an office table up to a bedside table, reclaimed barn wood would make such a unique piece in your house.
No matter what style your house is, you will never go wrong by incorporating barn wood as part of the interior. For more barn wood décor ideas, check out the pictures below.
Image Source : pinterest.com